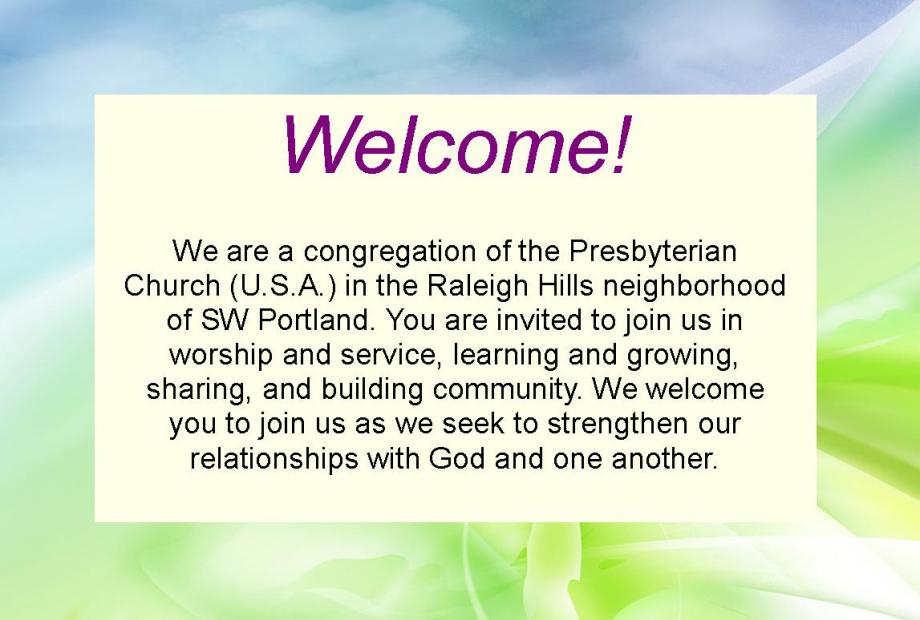 All are welcome to attend Sunday worship at 10:00 a.m.

Click here to watch an adapted live-stream worship at 10:00 a.m. on Sundays.

You can find this Sunday's bulletin to follow by clicking here.

---

Upcoming Events
VALLEY MISSION HOME: Valley has partnered with Lutheran Community Services of the Northwest (LCSNW) in an exciting new mission opportunity. LCSNW provides housing for refugees who arrive in Portland with very little except hope for a better life. As faith communities come together to mentor families, fill Restart Kits with essential goods, give financially, and provide housing, we are building a brighter future for our communities. Valley is blessed to have three rental homes on Cedar Street. One of these home was recently vacated. After hours of research and many phone conversations, we felt God calling us to open our hearts and this home to a deserving Afghan refugee family. Session enthusiastically approved this proposal on October 12! What an exciting time to make a difference in the life of others. Volunteers have painted the interior of the house and spruced up the yard. Our next step is to furnish the house with donated items. Time is of the essence since the first Afghan families have already arrived in Portland. We have made a commitment to have the house ready by November 1. Will you join us in making this house a home? A list of needed items is avaialble through this SignUpGenius link: https://www.signupgenius.com/go/10C0C49ABAF2BA4FDC61-valley
NON-PERISHABLE AND STYROFOAM DISTANCE COLLECTION on the first and third Thursday of each month, 10:00-11:30 a.m. in Valley's back parking lot. Please bring non-perishable, non-expired 'store bought' food such as: canned tuna/chicken, flour/sugar (4-5# bags), canned fruits/veddies, soup, pasta/rice (not from barrels/bulk bins), peanut butter, jelly/jam, snacks for the kids. These are just some suggested items. Valley's Earth Care Team will also be in the back parking lot to collect:

Styrofoam blocks

Clean Styrofoam trays

Clean Styrofoam food containers

Clean Styrofoam clamshells

#6 plastic (no other numbers are accepted - please check)

CD cases

PLEASE NO PEANUTS
---
Online Giving Available
We have partnered with the Presbyterian Foundation to create simple ways to give back to the church through online tithes and offerings:

Stewardship Campaign
The 2021 Stewardship Campaign officially kicked off with pledge cards being mailed out to Valley members and friends. If you have not received a pledge card, please contact the church office. You may also fill out your pledge card by following this online link: https://www.jotform.com/assign/202816913814052/cHZybnhFVGMxVXgyRG5FendYL3N1VmJNaGRaVElCaExXbnV2cFd0Q3IyZ0pXSmdJUUFiR0xINVZtODlHNTcwUjJ4alpOOUJHYWlhaFRHV2tyYytTU2c9PQ==
---
Our 2020 Annual Report is now available!

Click here to read the report.

Contact the church office if you would like a printed version.
---