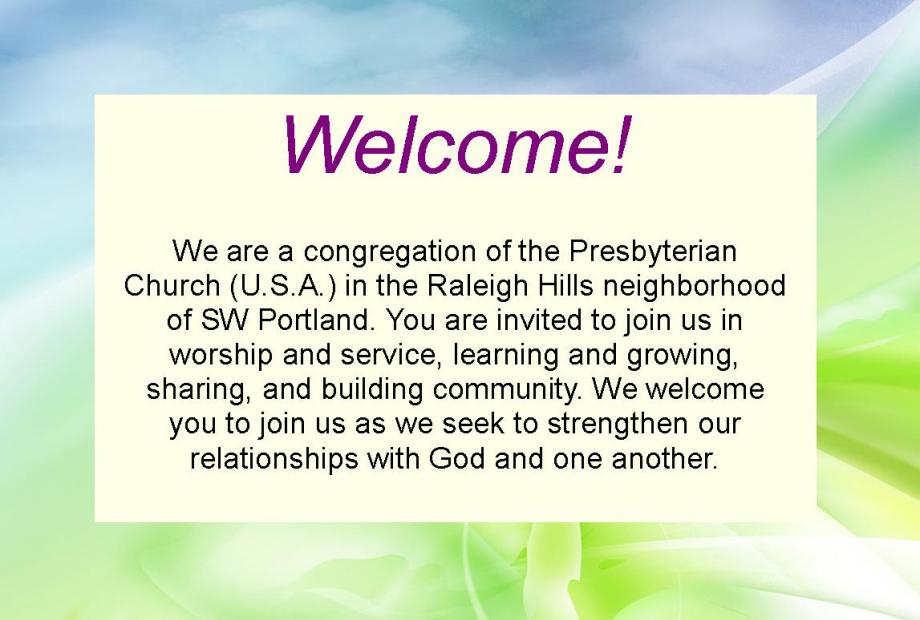 All are welcome to attend online Sunday worship at 10:00 a.m.

Click here to watch an adapted live-stream worship at 10:00 a.m. on Sundays.

You can find this Sunday's bulletin to follow by clicking here.

---

"Follow the Call"

Our winter sermon series (January 15-February 19) will be, "Follow the Call." During this six-week series, we will explore Matthew 5-7, often referred to as Jesus' Sermon on the Mount. A bible study to explore in greater depth the weekly worship passage from the Sermon on the Mount, will gather on Wednesdays, January 18 and 25, February 1 and 8, 10:30 a.m. in the church office conference room, or 7:00 p.m. via Zoom:

https://us02web.zoom.us/j/87060752512?pwd=YU1jV05SeFI2LzQ2VnN6N2t2eU5oQT09
Meeting ID: 870 6075 2512
Passcode: 871821

A daily reading guide can be accessed by clicking here, or hard copies can be found in the narthex.
---

Upcoming Events
NON-PERISHABLE AND STYROFOAM DISTANCE COLLECTION on the first and third Thursday of each month, 10:00-11:30 a.m. in Valley's back parking lot. Please bring non-perishable, non-expired 'store bought' food such as: canned tuna/chicken, flour/sugar (4-5# bags), canned fruits/veddies, soup, pasta/rice (not from barrels/bulk bins), peanut butter, jelly/jam, snacks for the kids. These are just some suggested items. Valley's Earth Care Team will also be in the back parking lot to collect:

Styrofoam blocks

Clean Styrofoam trays

Clean Styrofoam food containers

Clean Styrofoam clamshells

#6 plastic (no other numbers are accepted - please check)

CD cases

PLEASE NO PEANUTS
---
Online Giving Available
We have partnered with the Presbyterian Foundation to create simple ways to give back to the church through online tithes and offerings:

---

Visit https://www.instantchurchdirectory.com/online-member-directory and follow the prompts under "Sign In" to "Create a login now." Please remember, you must confirm your email address before you can sign in. There is also a free mobile app available for download at the Apple® App store in iTunes®, Google Play™ store and the Amazon Fire App Store. Simply search for "Instant Church Directory" to get the download. You will need to use your email address as listed in our directory to create a log-in the first time you use the direcotry online and via the mobile app. For more information, or if you need help logging in, contact Angie in the church office.
---