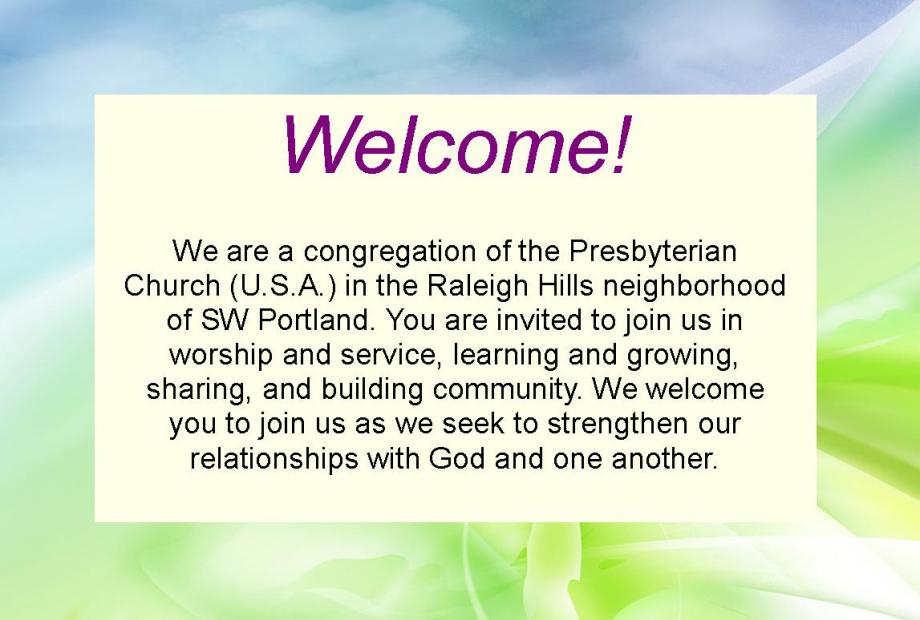 All are welcome to attend Sunday worship at 10:00 a.m.

Click here to watch an adapted live-stream worship at 10:00 a.m. on Sundays.

You can find this Sunday's bulletin to follow by clicking here.

---

Upcoming Events
RED CROSS BLOOD DRIVE

on Wednesday, September 22, 2:00-7:00 pm. Contact Jim Sandberg or Karen Miller for more information or to sign up.
NON-PERISHABLE AND STYROFOAM DISTANCE COLLECTION on the first and third Thursday of each month, 10:00-11:30 a.m. in Valley's back parking lot. Please bring non-perishable, non-expired 'store bought' food such as: canned tuna/chicken, flour/sugar (4-5# bags), canned fruits/veddies, soup, pasta/rice (not from barrels/bulk bins), peanut butter, jelly/jam, snacks for the kids. These are just some suggested items. Valley's Earth Care Team will also be in the back parking lot to collect:

Styrofoam blocks

Clean Styrofoam trays

Clean Styrofoam food containers

Clean Styrofoam clamshells

#6 plastic (no other numbers are accepted - please check)

CD cases

PLEASE NO PEANUTS
---
Online Giving Available
We have partnered with the Presbyterian Foundation to create simple ways to give back to the church through online tithes and offerings:

Stewardship Campaign
The 2021 Stewardship Campaign officially kicked off with pledge cards being mailed out to Valley members and friends. If you have not received a pledge card, please contact the church office. You may also fill out your pledge card by following this online link: https://www.jotform.com/assign/202816913814052/cHZybnhFVGMxVXgyRG5FendYL3N1VmJNaGRaVElCaExXbnV2cFd0Q3IyZ0pXSmdJUUFiR0xINVZtODlHNTcwUjJ4alpOOUJHYWlhaFRHV2tyYytTU2c9PQ==
---
Our 2020 Annual Report is now available!

Click here to read the report.

Contact the church office if you would like a printed version.
---