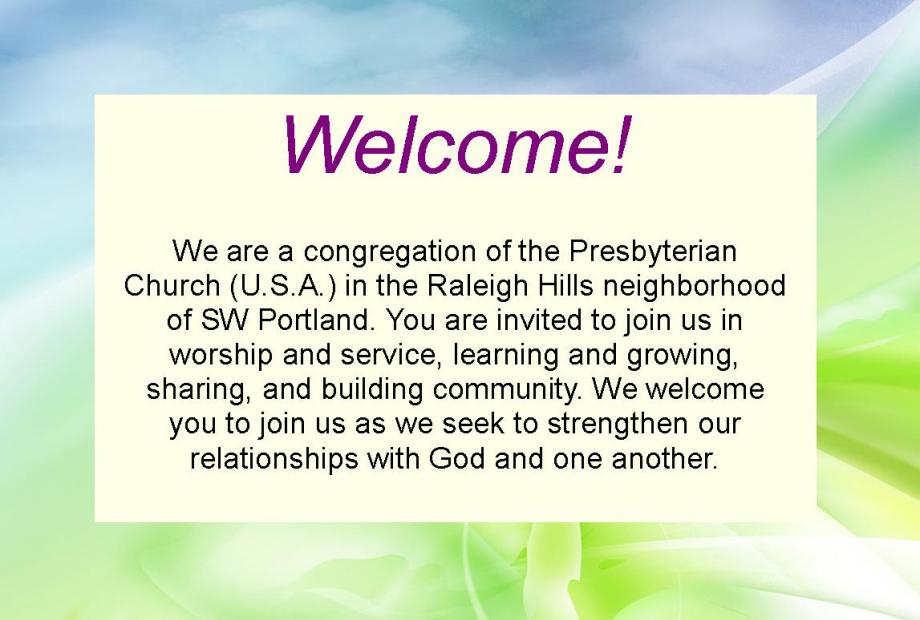 In-person worship has been approved! All are welcome to attend Sunday worship at 10:00 a.m.
Click here for the May 20, 2021 update on Covid mitigations for the Valley Community.

Click here to watch an adapted live-stream worship at 10:00 a.m. on Sundays. You can find this Sunday's bulletin to follow by clicking here
---

Upcoming Events
The Session, following recommendations from the Virus Task Force, have approved the use of outdoor spaces at Valley including the courtyard, parking lots, and patio for small, socially distanced meetings.

If you are interested in using a space for a meeting, please contact Angie in the church office or fill out the following interest form: https://www.jotform.com/valleycommunity/eventrequest. Check back for more information or sign up (green box on the bottom right of this page) for our regular e-blasts on Tuesdays and Fridays.
NON-PERISHABLE AND STYROFOAM DISTANCE COLLECTION on the first and third Thursday of each month, 10:00-11:30 a.m. in Valley's back parking lot. Please bring non-perishable, non-expired 'store bought' food such as: canned tuna/chicken, flour/sugar (4-5# bags), canned fruits/veddies, soup, pasta/rice (not from barrels/bulk bins), peanut butter, jelly/jam, snacks for the kids. These are just some suggested items. Valley's Earth Care Team will also be in the back parking lot to collect:

Styrofoam blocks

Clean Styrofoam trays

Clean Styrofoam food containers

Clean Styrofoam clamshells

#6 plastic (no other numbers are accepted - please check)

CD cases

PLEASE NO PEANUTS
---
Online Giving Available
We have partnered with the Presbyterian Foundation to create simple ways to give back to the church through online tithes and offerings:

Stewardship Campaign
The 2021 Stewardship Campaign officially kicked off with pledge cards being mailed out to Valley members and friends. If you have not received a pledge card, please contact the church office. You may also fill out your pledge card by following this online link: https://www.jotform.com/assign/202816913814052/cHZybnhFVGMxVXgyRG5FendYL3N1VmJNaGRaVElCaExXbnV2cFd0Q3IyZ0pXSmdJUUFiR0xINVZtODlHNTcwUjJ4alpOOUJHYWlhaFRHV2tyYytTU2c9PQ==
---
Our 2020 Annual Report is now available!

Click here to read the report.

Contact the church office if you would like a printed version.
---